MEET OUR TEAM AT JCL ASPHALT
Attracting and retaining talented staff is a major area of focus for us. Over the past few years we've assembled a team of individuals who share our standards of professionalism and attention to detail. We deploy expert teams for each stage of your project – from construction crews who undertake preparation and finishing, through to specialised paving, hand lay and chip seal teams, depending on the exact specifications of your project. Regardless of role, they all have one thing in common – a focus on outstanding service, quality and safety.
Our team are profiled below:
JAMES CRAW – Managing Director
Over the past 18 years, driven by his personal vision for outstanding quality and workmanship, James has progressed from a hands-on role in a road paving crew to establish his own award-winning business.
After four years in a field-based position for Fulton Hogan, James was appointed as Asphalt Foreman in charge of a road paving crew. Twelve months later, in 2004, he started his own surfacing company.
Since then, James has managed and delivered construction and surfacing projects throughout Canterbury and the South Island. His extensive practical knowledge, leadership and managerial acumen have seen JCL Asphalt grow exponentially, but not at the expense of quality and customer experience. The success of JCL Asphalt has been led by James' attention to detail and single-minded focus on outstanding safety, quality and service.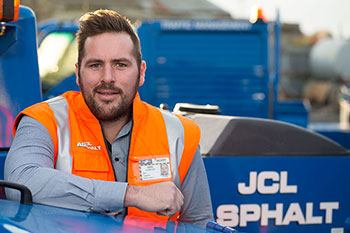 BEN HOPEWELL
Branch Manager (Christchurch) Ph: 021 997 130
Email: ben@jclasphalt.co.nz
Ben's ten years' in the industry have seen him progress from the frontline through to operations roles. This gives him excellent practical experience and knowledge of roading construction and surfacing. As Manager of our Christchurch branch, Ben oversees all aspects of JCL Asphalt's operations. He is focused on the performance of our specialist crews, Operations Managers and supervisors to ensure works are delivered to complete client satisfaction. Regardless of whether the project is a residential driveway or a large roading contract, Ben maintains 'end-to-end' oversight. He also takes a hands on role, through his involvement in pre- construction site inspections, forward planning, measurement of completed works and invoicing. An excellent communicator and relationship manager, Ben maintains close contact with clients, keeping them fully informed from project initiation through to final close out. He takes expert care of JCL Asphalt customers – his goal is to ensure they receive work which is competitively priced and completed to specification, without remedials. His leadership results in projects delivered on time, on budget and to a high standard.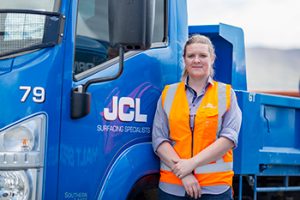 STEPHANIE WILLIAMS
Operations Manager (Southern Lakes)
Email: southernlakes@jclasphalt.co.nz
Committed to growing our business in the Southern Lakes and offering superior service to our clients, Steph brings enthusiasm, a fresh approach, support and guidance to JLC Asphalt's southern-based team. With a background in the Royal Air Force Police in the UK and 15 years' management and operations experience on small and large projects prior to joining JCL, Steph is equally comfortable as part of a team or managing crews. Always willing to embrace new challenges, she seized the opportunity when moving to New Zealand from the UK, to also transition into a completely new industry and begin studying for formal qualifications. Exceptional planning and organisational skills, strong customer focus and a commitment to health and safety and high performance delivery, are all attributes that make Steph the ideal Operations Manager for this region.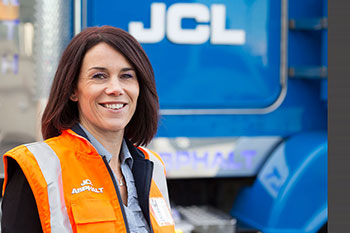 DEBBIE LABUDDE
Office Manager (Christchurch)
Email: debbie@jclasphalt.co.nz
A key member of JCL Asphalt's head office staff, Debbie has a background in financial management and multiple years' experience as an office manager/finance manager. She heads up our Admin. Team, providing support and assistance for James Craw and JCL Asphalt's managers. Over the past seven years, Debbie has established in-depth understanding of the surfacing industry, JCL Asphalt and our clients' requirements. She is the first 'port of call' for all customer queries, handling these efficiently and expertly.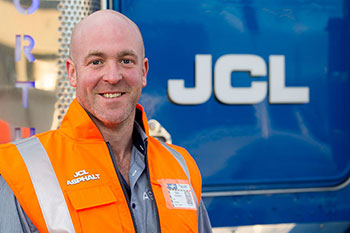 KEVIN SHEPHERD
Workshop Manager (Christchurch) Ph: 021 345 813
Email: kevin@jclasphalt.co.nz
Assisted by a team of two mechanics, Kevin runs the extremely busy JCL Asphalt workshop. With 15 years' industry expertise under his belt, he ensures all our fleet and plant is kept in optimal condition. He plans and implements proactive maintenance programmes and also expertly manages response and repair for any breakdowns. Kevin's background includes specialised dealer training with Volvo and Caterpillar. His role on our team is key to ensuring all projects run smoothly – by working proactively to eliminate delays caused by equipment issues; and responding quickly if they do.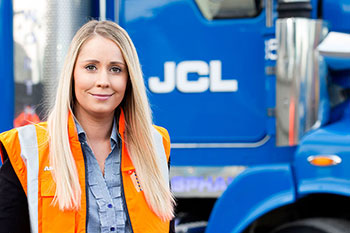 JAMELIA FRIESE
HR Manager Ph: 021 244 9488
Email: jamelia@jclasphalt.co.nz
As a consultant, Jamelia began her career in the accountancy and finance sectors before transitioning to construction industry recruitment. This background gives her in-depth understanding of candidate selection and appointment into civil construction roles, including for specialised and technical positions. As JCL Asphalt's HR Manager, Jamelia is key to our focus to attract and retain 'talent'. She has expertly established our recruitment, on- boarding and staff development frameworks. Jamelia also plays a key role in the development and implementation of our Health and Safety best practice and staff wellbeing programmes.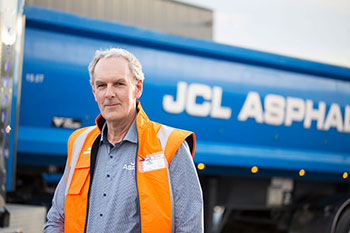 PETER FISHER – NZCE (civil), REA
Senior Estimator Ph: 021 334 795
Email: peter@jclasphalt.co.nz
Over 45 years' in the civil construction industry underpin Peter's expertise in quoting and tendering. His practical expertise and detailed understanding of end-to-end construction processes includes construction of subdivisions and building roads, footpaths, drainage and services. Prior to returning to Christchurch in 2011, he was involved in the $1m reconstruction of footpaths and roads in Princes and Alfred Streets, adjacent to Auckland University. As our Senior Estimator, Peter has used his broad industry experience to expertly set up JCL Asphalt's tendering and pricing systems. He also provides an important point of contact for our Christchurch and Southern Lakes clients. Peter delivers excellent customer service, based on his ability to assist our clients with expert advice and accurate pricing.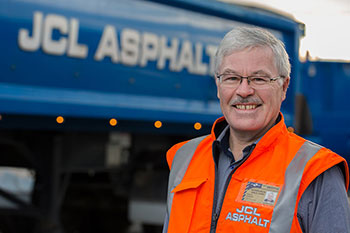 GERARD LANDRETH
Estimator  (Christchurch) Ph: 020 407 02450
Email: gerard@jclasphalt.co.nz
No job is too big, too small or too complex for Gerard to estimate. He can expertly price anything, drawing on 16 years civil contracting experience (as an estimator/project manager) and extensive knowledge of asphalt mix design and quality control testing. Gerard ably assists JCL Asphalt clients, providing specialised advice and guidance. This includes an extensive knowledge base gained as project manager for the replacement and/or repair of 7500 earthquake-damaged driveways, paths and patios throughout Christchurch. When dealing with Gerard, JCL Asphalt clients have access to both his depth of knowledge and breadth of experience.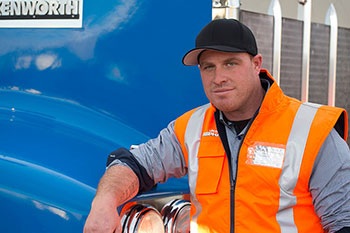 KENNETH BUSCH
Surfacing Supervisor (Christchurch) Ph: 021 146 0263
Email: kenneth@jclasphalt.co.nz
Since joining JCL Asphalt in his first role in the surfacing industry, Kenneth has progressed rapidly through the ranks. Currently, supervisor of our Chip Seal and Paving Crews, he brings practical expertise in the operation of diggers, spraying machinery, and laying asphalt and chip seal surfaces. Along the way, he's learned the skills of his trade; both through practical application and formal training. Kenneth works shoulder-to-shoulder with his teams to ensure all aspects of a job are completed to his high standards. He considers the work produced by his crews to be the ''icing on the cake'' of a project. It's essential everything they deliver complements the earlier efforts and inputs of our estimating and construction teams. With an ability to identify 'gaps' and address them, Kenneth is skilled in the detailed preparations required to set up a project for success. He's experienced in organising plant and equipment, ordering materials and accurately planning each aspect of delivery for surfacing operations. Kenneth has been involved in multiple JCL Asphalt projects from large paving contracts to residential driveways. However, his priority and focus are always consistent – to lay a surface which is the high quality 'icing' on the client's 'cake' and ensure the finished product is exactly what is specified.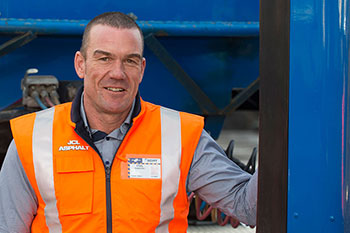 BLAIR ILES
Handlay & Patching Supervisor (Christchurch)
Ph: 021 995 706
Email: blair@jclasphalt.co.nz
An asphalting expert, Blair runs both our specialist Hand Lay Crew and our Patching Crew. Starting off in an asphalt team, himself, Blair has all the skills required to hand lay asphalt and achieve an outstanding result. He knows exactly what is crucial – i.e. preparation, laying to precisely the right depth and expert compaction / rolling to create a perfect finish. Because he is skilled in doing this himself, he's highly effective supervising all phases of hand lay operations. Blair and his teams undertake all sizes of project from patching single potholes through to laying tennis courts and large commercial car-parks. They 'come into their own' on hilly / sloping work-sites and anywhere access is impossible for paving machinery. Led by Blair, they're able to complete the challenging surfacing projects which are impossible for many other contractors. With his reputation for outstanding work, Blair is proof that to be really good at something you have to love it. Progressing from a paver operator to a crew supervisor, he knows the surfacing business ''inside out''. Blair's clients benefit from his ability to plan for, and deliver a perfect finish.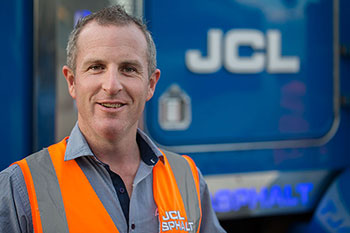 HAMISH WILKINSON
Construction Supervisor (Christchurch) Ph: 021 996 749
Email: hamish@jclasphalt.co.nz
Hamish's effectiveness as our Construction Supervisor is based on 15 years' hands-on experience operating construction equipment and plant. He is a highly skilled operator of excavators, rollers and graders. This includes expertise with laser-controlled grading equipment. With both practical and technical skillsets, himself, Hamish is an effective supervisor of construction activities and teams. He is highly experienced in the organisation and supervision of crews, particularly in setting-out, excavation, pavement construction and installation of kerbing and drainage. Hamish is skilled in using his knowledge of construction techniques and plant, to ensure all aspects of construction run smoothly for our clients.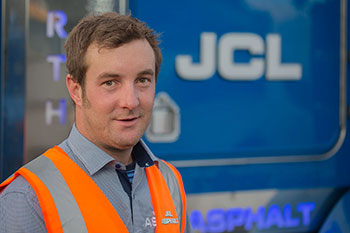 KYLE TORKINGTON
Construction Supervisor  (Christchurch) Ph: 021 279 9928
Email: kyle@jclasphalt.co.nz
Involved in civil construction for 13 years, Kyle has ten years' experience as a foreman, and more recently as a Construction Supervisor for JCL Asphalt. He has extensive surfacing construction expertise which includes rebuilding roads throughout Christchurch as part of SCIRT's earthquake repair projects. He has put this experience to good use, leading construction of several commercial car park projects for JCL Asphalt, completing these on time and to a high standard of finish. Kyle's skillset includes hands-on/practical operation of earthmoving equipment. He is focused on sharing this expertise to upskill his crew and drive productivity and quality. His team also benefits from Kyle's focus on health and safety – their track record includes achieving 100% during internal H&S auditing. An effective problem solver, Kyle keeps his clients in the loop and delivers projects on time and on quality.